Automotive bodypaint service is essential to maintain the shine and lustre of the car for a long time. The paintwork on the exterior of the vehicle is exposed to all sorts of elements and it needs to be regularly maintained. Even minor scratches and stains can damage the car's body if not treated on time. A quality car body paint service can repair damages and help in protecting the car's body in the future. The Hyundai Bodyshop near me offers body paint services for Hyundai cars to restore their original look. 
Bodypaint Service for the Car
Body paint service is essential to protect the paint and body of the car for the long term. It helps in restoring and protecting the appearance of a car. A quality Hyundai bodypaint service helps in removing stains, scratches, or marks, and restoring the shine and gloss of the car. A protective layer is also added to the car's body to prevent damage in the future.
Hyundai Bodypaint Service at Hans Hyundai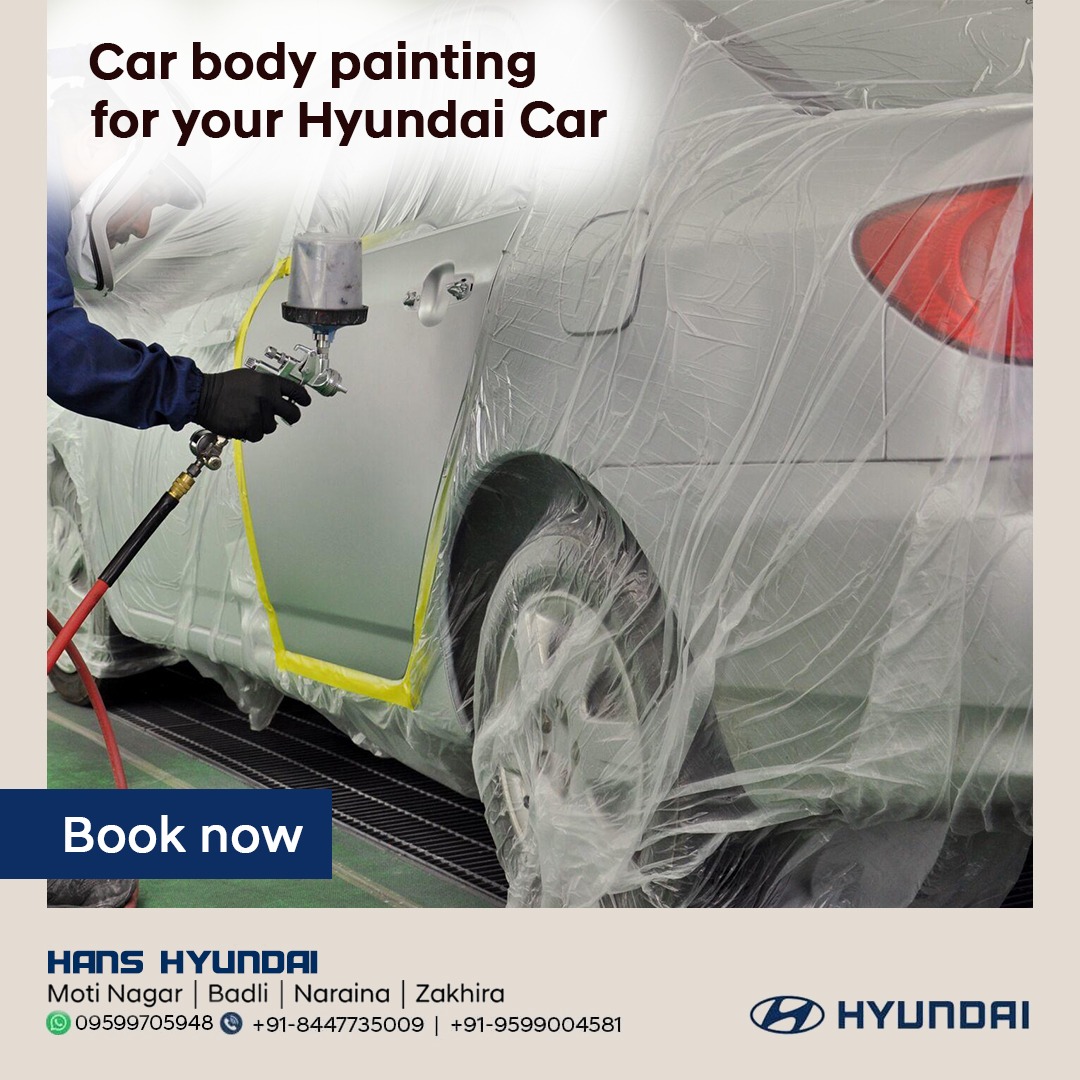 A car's body paint service is essential for maintaining its appearance and body. Not only does it help to fix scratches and tough stains, but it also gives the car a glossy finish. The highly skilled professionals at Hans Hyundai Bodyshop offer quality car body paint services. It includes treating corrosion, removing stains or scratches, and polishing services to restore the shine of the Hyundai car.  
Benefits of Bodypaint Service at Hyundai Bodyshop
Professional Bodypaint service from Hyundai Bodyshop helps in maintaining the car's exterior in top condition. It also provides protection to the paint from various elements. Find below the benefits of body paints service:
Keep the paint glossy and new for a longer time.

Remove minor scratches and give the car a lustrous appearance.

Complete UV ray protection for the vehicle.

Complete tyre and vinyl surface washing and polishing.
Other Services at Hyundai Sevice center
Hans Hyundai Service center provides quality car services for Hyundai cars in Delhi. Find below the various services available at Hans Hyundai:
Health & Hygiene Services
Health & Hygiene Services are crucial to keep the interior of the car clean from bacteria, dirt, and harmful pollutants for a clean and healthy car environment.  
Safety & Durability Services
The Safety & Durability service ensures that every part of the car is safe and in perfect working condition. 
Battery/Tyre/Oil/Alignment Services
The servicing of the car's battery, tyres, wheels, etc. is essential to ensure smooth and comfortable driving while maintaining fuel efficiency. 
Roadside Assistance
Roadside assistance service is a helpful service in case of a sudden breakdown in the middle of the road. 
Hyundai paint job helps in restoring and maintaining the look of the car. Book a body paint service at Hans Hyundai Bodyshop near me and restore the shine and gloss of your Hyundai car.
Hans Hyundai Service Center
Hans Hyundai Service Center (Moti Nagar)
✅Address –Unit-4, TSG Complex, 69/1A Moti Nagar Crossing, Najafgarh Rd, New Delhi, Delhi 110015
?Call Now – 08447735009
?Chat with us on WhatsApp –09599705948
Hans Hyundai Service Center (Naraina)
✅Address –A57, Industrial Area Phase I, Block A, Naraina Industrial Area Phase 1, Naraina, New Delhi, Delhi 110028
?Call Now– 09311408639
?Chat with us on WhatsApp –09599705948
Hans Hyundai Service Center (Zakhira)
✅Address –B-13, Najafgarh road, Zakhira, New Delhi, Zakhira, Delhi, 110015
?Call Now – 08447735009
?Chat with us on WhatsApp: –09599705948
Hans Hyundai Service Center (Badli)
✅Address – B5, Badli Industrial Area Phase 1, Near Samay Pur, Badli Metro Station New Delhi 110042
?Call Now – 09599004581
?Chat with us on WhatsApp –09599705948